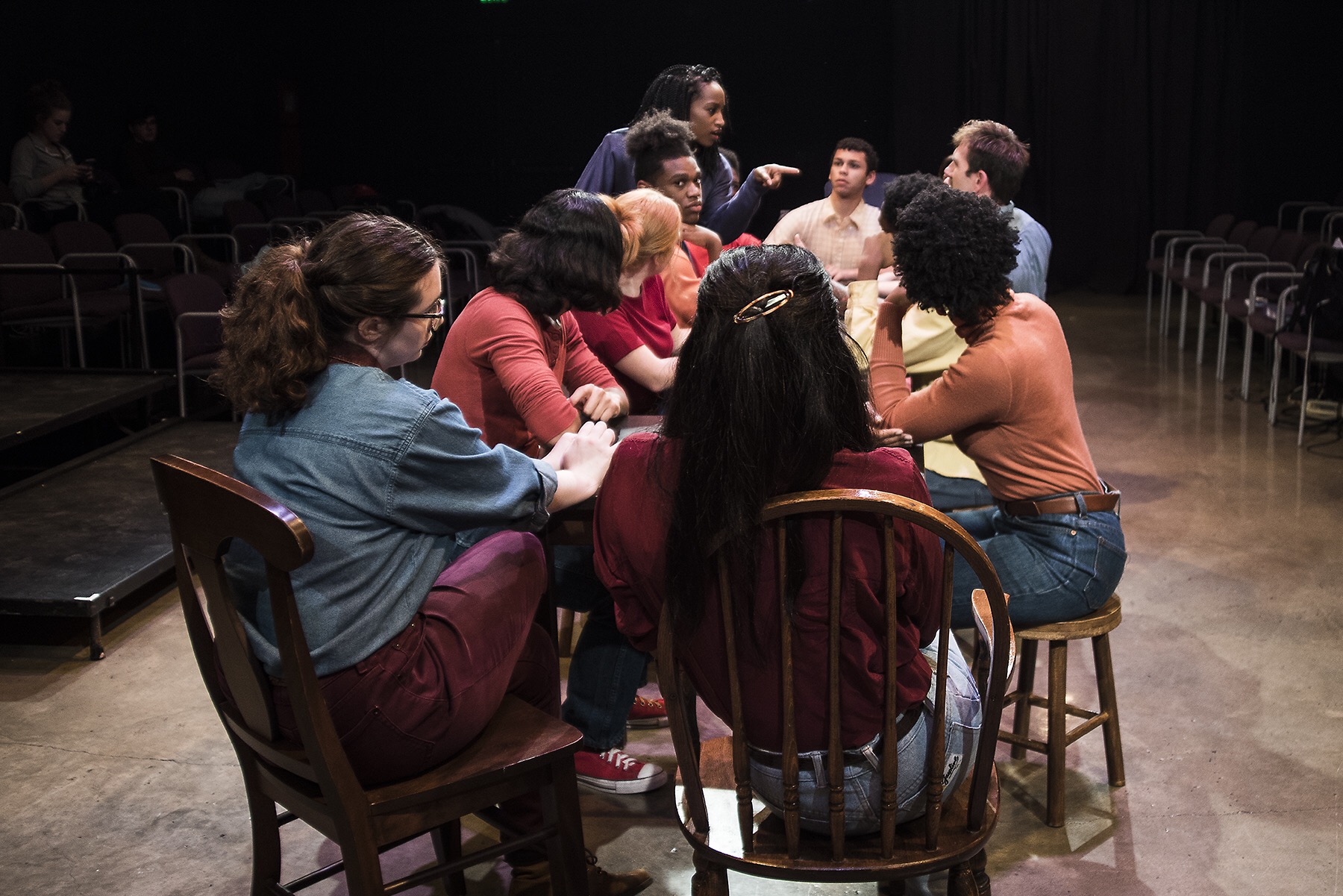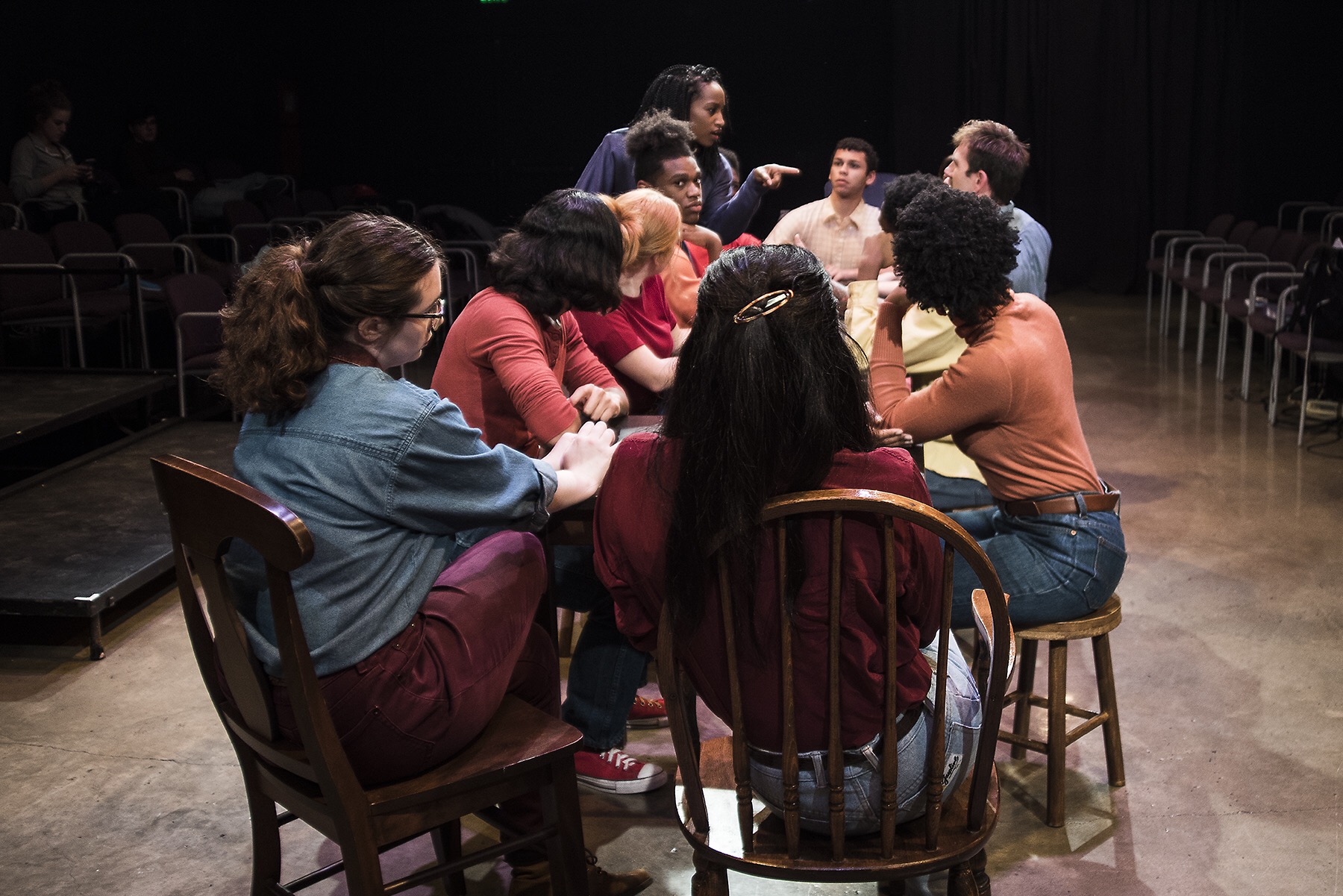 Acclaimed as "an American masterpiece" (Newsweek), Twilight: Los Angeles, '92 is a work of "documentary theatre" in which Anna Deavere Smith uses the verbatim words of people who experienced the Los Angeles riots to expose and explore the devastating human impact of that event. A work that goes directly to the heart of the issues of race and class, Twilight ruthlessly probes the language and the lives of its subjects, offering stark insight into the complex and pressing social, economic and political issues that fueled the flames in the wake of the Rodney King verdict.
Featuring Cody Alexander, Terica Anthony, Annie Burnett, Zariya Butler, Wilhelmena Dreyer, Layke Fowler, Devon Hayakawa, Brenda Ortiz Flores, Keith Overall, Tyler Rainer, Edgar de Santiago, Immanuel Simon, and Glenn Williams
Scenic design by Alexander Modlin
Lighting design by Kathryn Burke
Costume design by Taylor Delgado-Diaz
Sound design by Matthew Tibbs
Projections design by Selena Webb
Dramaturgy by Devon Hayakawa
Stage managed by Lauren Montgomery
Photography by Kip Shawger
Strother Studio Theatre, Ball State University, September 2017
This richly, human portrait of life in Yorkshire's coal mining district depicts a family's hopes and heartaches while exploring the challenge of bridging white-collar ambition with blue-collar roots.
Salt of the Earth
by John Godber
directed by thomas murray
Produced by
Ka-Tet Theatre Company
Chicago, Illinois
"The material is familiar, but the bittersweet script feels true and lived-in. It's complemented by painfully honest performances from a fine eight-person ensemble under Thomas Murray's direction." Reader Recommended! (Albert Williams, Chicago Reader)
"It's a powerful and wrenchingly honest portrayal of the strain that progress and change put on those whom we call the salt of the earth." Recommended (Rob Underwood, NewCity)
"Thomas Murray's tender direction shows that a couple can fight furiously and still share a deep and endless love, beautifully presented by their simple dance numbers." (Samantha Nelson, Stage and Cinema)
Featuring Kathryn Bartholomew, Stevie Chaddock, Rob Glidden, Josh Katzker, Kevin Lambert, Dan Meisner, Suzanne Miller, and Misti Patrella
Scenic design by Henry Behel
Lighting design by Karen M. Thompson
Costume design by Rachel Lambert
Sound design by Robert P. Lloyd
Dialect coaching by Dan Meisner
Stage managed by Tina Frey
Production management by Caitlin Boylan
Photography by Kaleigh Lockhart
City Lit Theatre, July 13 - August 11, 2012
The yard is wrong. The fence is wrong. The patio furniture is really, really wrong. As Mike and Deb prepare for a backyard barbecue designed to impress their more stylish friends, these concerns threaten to send them into a spiral of shame and self-doubt. But the world is about to fall apart, and apocalypse has a way of putting things in perspective. The Ruckus presents the Midwest premiere of a devilish new comedy from the writer behind The Boxer.
"I won't spoil anything, but the writing, acting and directing that takes place in the second act are a master class in creating palpable tension and confounding expectations. Every member of the cast does meaningful work, and Jon Patrick Penick is not just good but Holy Shit Good." Recommended! (John Carruthers, NewCity)
Featuring Bryan Bosque, Allison Hendrix, Kevin Lambert, Jon Patrick Penick, Jillian Rea, Andrew L. Saenz, and Christine Vrem-Ydstie
Scenic design by Tristan James
Lighting design by Cat Wilson
Costume design by Rachel S. Parent
Sound design by Alex Romberg
Props design by Holly McCauley
Blood and combat design by Kyle Encinas
Stage managed by Kristin Davis
Photography by Jeff Bivens
Athenaeum Theatre, February 14 - March 15, 2015
Living Quarters, After Hippolytus
by Brian Friel
Directed by Thomas Murray
Produced by
Strangeloop Theatre
Chicago, Illinois
Commandant Frank Butler returns home to Ireland as a hero after saving nine United Nations peacekeepers from enemy fire during a siege in the Middle East. Reunited to celebrate Frank's triumph are three daughters and a son by his first marriage and the young wife Frank married days before his deployment. But the revelation of secrets kept while Frank was away threatens to divide the Butler house forever.
"Based on Euripides's Hippolytus, it's the type of richly layered, emotional work that would be painful to see staged anything less than brilliantly. But brilliance is exactly what they achieve in portraying an Irish family torn apart by an incestuous affair." Reader Recommended! (Keith Griffith, Chicago Reader)
"Thomas Murray is a long time scholar of Brian Friel, the Irish playwright best known in America for Dancing at Lughnasa. How happy for Chicago's theater community that his turn as director crafts the subtle and balanced execution of an earlier, more experimental play of Friel's. Small and simply produced by Strangeloop Theatre, it is the very definition of excellence." (Paige Listerud, Chicago Theater Beat)
"Living Quarters' slippery multidimensional conceits might exceed the skills of most theater troupes embarking on only their second production, but the company assembled by director Thomas Murray is more than equal to the task. The adroit cast keeps us firmly anchored in the intimate scenario, while the technical staff delivers environmental artistry." (Mary Shen Barnidge, Windy City Times)
Featuring Kathryn Bartholomew, Shannon Bracken, Ross Compton, James Houton, Kelley Minneci, Martin Monahan, Jillian Rafa, Danni Smith, and Paul Tinsley
Scenic design by Glen Anderson
Lighting design by Leigh Barrett
Costume and props design by D.J. Reed
Sound design by Jesus Contreras
Dialect coaching by Kate Jordan
Stage managed by Lauren Pace
Trap Door Theatre, February 18 - March 14, 2010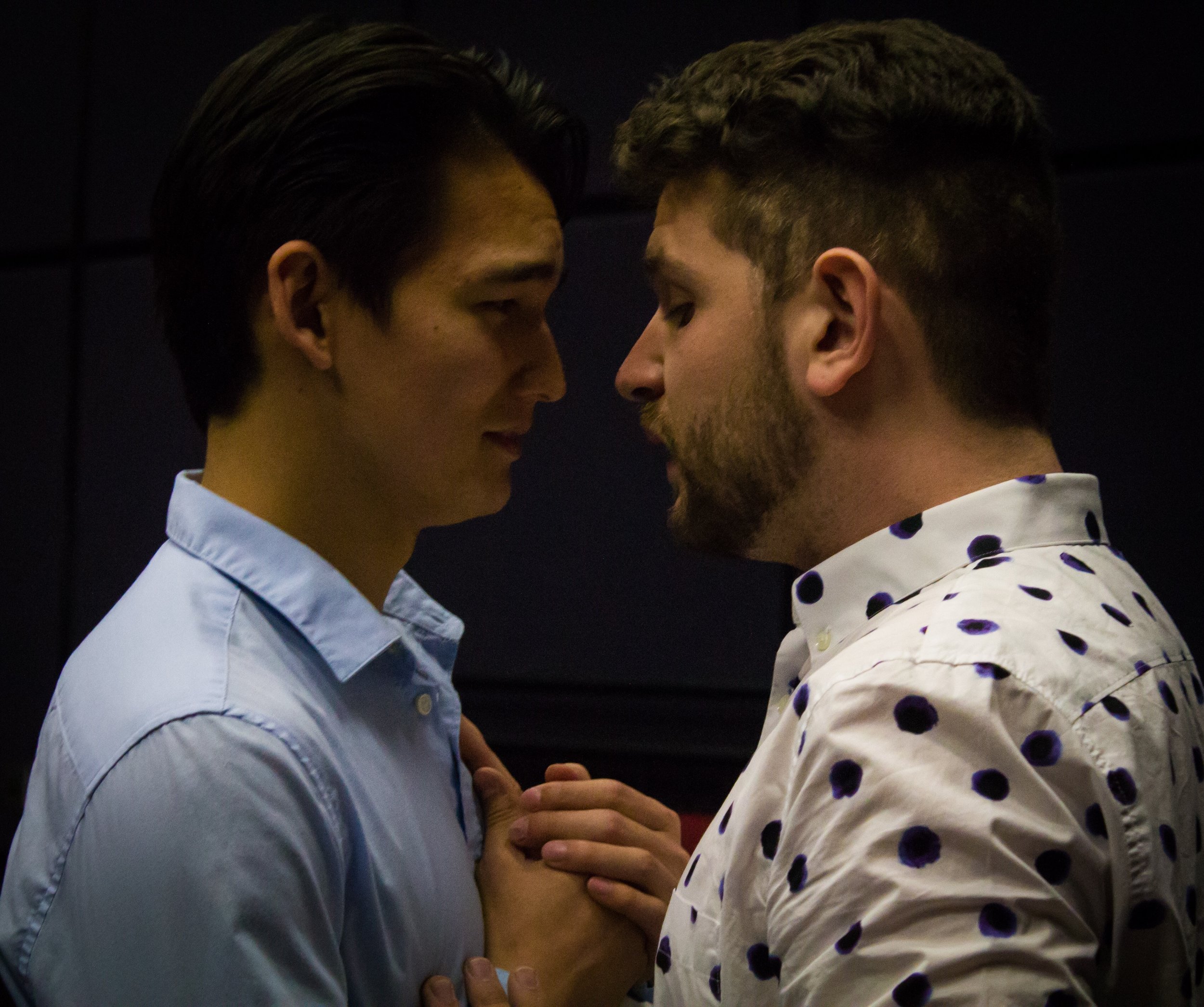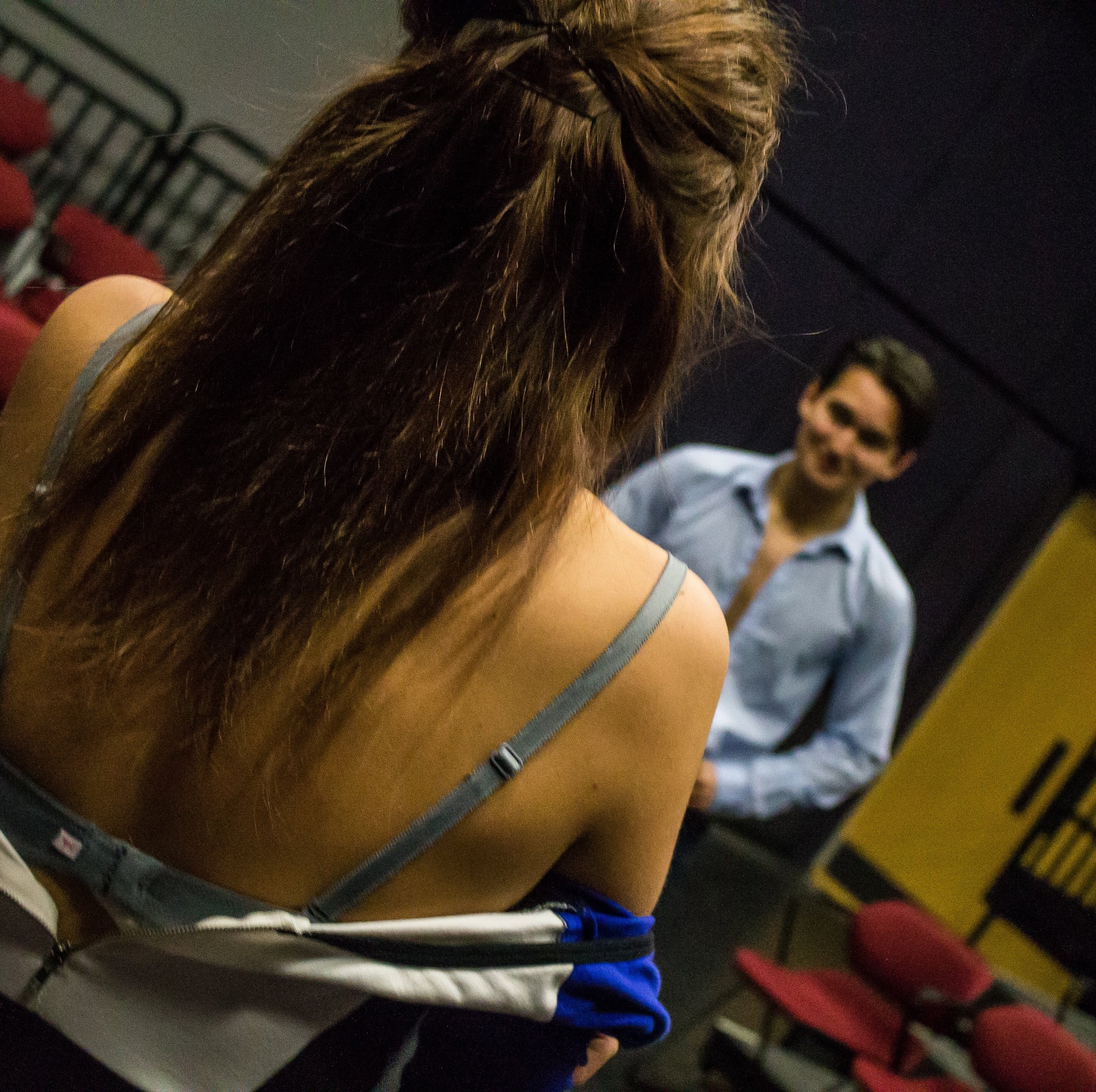 When John takes a break from his longtime relationship with his boyfriend, he accidentally falls in love with a woman. Torn between the two, John doesn't know which way to turn. As both his boyfriend and his girlfriend fight to keep him, this comedy around identity and sexuality ultimately asks, who is John? And what will his decision be?
featuring Liam Dillon, London Docherty, Mitchell McKenna and Mark Styring
Costumes, sound, and audience design by Thomas Murray
Stage managed by Katie Rae Stevens and Sage Schweickert
Photography by Dylan Bomgardner
Theatre 101, Virginia Tech, April 2016
From a coach publicly defending his losing season to a pair of souls setting up dating profiles, the thoughts we should never say aloud are amplified with hilarity, abrasiveness, and authenticity. Put yourself at the center of the existential mayhem in these five short scenes by Obie-Award winner Will Eno.
featuring Woody Chapman, Naire Poole, Sydney Crutcher and Jessica Jordan
Props design by Felysia Furnary
Costumes, sound, and audience design by Thomas Murray
Stage managed by Jamie Lindsay
Theatre 101, Virginia Tech, November 2015